Refreshment
in a spritz!






Like the fine mist of a soothing waterfall Essential Spritzers add nature to the energy that surrounds you!

Indulge yourself in Essential Spritzers!

You'll prefer these clean fresh natural organic water-based spritzers to chemical room deodorizers.










These listed single
Essential Oils are
also available as
Essential Spritzers!

Enter your choice
and click on
Buy Now.


Bergamot

Cinnamon Bark

Clary Sage

Eucalyptus
Citridora

Frankincense

Rose Geranium

Grapefruit

Jasmine

Lemon

Lime

Myrrh

Sweet Orange

Oregano

Wild Scotch Pine

Rosemary

Thyme

































































Love our products?
Thank you for sending
friends & family
to our site.
We're so grateful!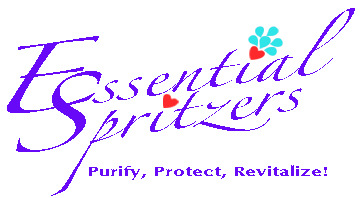 Essential Oils have been used around the world for centuries. These extracts of plants,
seeds, flowers, fruits, stems, leaves, bark and roots are powerful ingredients of nature.
They refresh, renew, cleanse, purify, relax, and stimulate. They are Nature's gifts to us!

Combined with purified water in fine mist spray bottles, Essential Spritzers feel like the
fine mist of a waterfall dancing gently on the face. Light, fragrant, revitalizing! Designed
by specific purpose, different oils are used for face and body, car and home, sanitizing after
children & pets, protecting from parasites & pests, cleansing the air, and uplifting energy.
All with natural, pure organic high-quality medicinal-grade oils. To be used freely, as desired.


Great for using around smelly places, pets and people! Keep handy for the
car, mudroom, pet areas and locker room! Spritz generously and frequently!
You too may find Essential Spritzers are essential!



FREQUENTLY ASKED QUESTIONS




1. How do I use Essential Spritzers?

Essential Spritzers come with a cap over top of a fine mist sprayer. Remove the cap and spritz freely as desired.

Essential Spritzers are designed for different uses based on the aromatherapy essential oil used. Each product is designated For Face & Body, Air Spritzer, Body Spritzer or Surface Spritzer. For Face & Body Spritzers, close eyes and spritz over face, and body as desired. Spritz on forearms and chest for greater absorption. Avoid mucus membranes.

Test Essential Spritzers on the forearm (with palm up) for sensitivities if concerned about allergies. Wait 20 minutes.
If no reaction, spritz freely as desired. As with any negative reaction, discontinue use and consult a physician.

For Air Spritzers, spritz around the room in the air and around fabrics of heavily used furniture, carpets, or pet beds, curtains etc. Do not use on fine fabrics. Essential Spritzers makes no claims as to which oils may or may not discolor clothing or fabrics.

For Surface Spritzers use in addition to or in place of cleaning products, as needed.

All Essential Spritzers can be interchanged for Air and Surface Spritzers, and sometimes we can use the Air & Surface Spritzers on our bodies. However some source oils are irritants to sensitive skin and need to be tested. Because Essential Spritzers are combined with purified water at less than 6:2000 reactions are unlikely but need to be tested for individual safety as outlined above.

Close eyes with Face Spritzers. Avoid eye contact with all other Essential Spritzers.

Essential Spritzers are designed to be light, and for most people fragrances will dissipate after a time especially with perspiration. Flower fragrances will last longer. Spritz generously and frequently!

For a real treat, or to loosen tight muscles, soak and squeeze out hand towels or washcloth in water, spritz with Essential Spritzers and heat in the microwave for approximately 45 seconds, depending on your microwave. Be careful in removing, use tongs or a another cloth to remove. When the temperature is right for you, roll up and place on tight areas or wrap around the back of the neck. Or wrap two around your feet. Yummy! Just like we do in the spa!


2. How do I choose Essential Spritzers?

Choose the aromatherapy essential oils you know you'll love! Follow your intuition. If you like the individual essential oils you will usually like the blends.

Essential Spritzers are not designed to store. They are designed to be used within weeks or months, not sit on the shelf for years. Order what is needed and will be used regularly.

If you order an Essential Spritzer you don't like, gift it to a loved one or sell to a neighbor. We make Essential Spritzers affordable!


3. How do I custom order an Essential Spritzer?

Call 808.276.8250 or email us at connect@essentialspritzers.com and we will gladly handle a custom order. Soon there will be a set-up for custom order blends on the site.


4. What if I don't like an Essential Spritzers scent I ordered?

Buyers are responsible for each purchase. If you are truly unhappy with an Essential Spritzer you yourself ordered, and cannot sell it, gift it away and return your receipt to us with your next order. We will give one replacement Essential Spritzer of your choice with the exception of Rose Absolute with your next order. Our replacement policy does not apply to single or custom orders or gift recipients.


5. How do I bulk order Essential Spritzers?

Call to discuss a bulk order of Essential Spritzers if the PayPal online order form fails to take your order.


6. How do I wholesale order Essential Spritzers?

If you are a retailer call to discuss a wholesale order of Essential Spritzers.


7. Can I use Essential Spritzers as a breath spritzer?

Essential Spritzers are for EXTERNAL USE ONLY. If you want to use essential oils as a breath treatment or mouthwash or rinse there are great products available and more continue to come on the market. Consult your dentist, or local health food professional or do an internet search.


8. What kind of Lavender is in the Lavender Spritzer?

Lavendula angustifolia is in the Lavender Spritzer.


9. How do I find out more about Essential Spritzers source essential oils?

Click on the link at the bottom of the page to VeriditasBotanicals.com for lengthy information on these wonderful pure oils. It is an excellent education to learn about Nature's greatest botanicals. For more information on use, history and qualities of oils, do an internet search for the "properties of lavender" for example. Have fun!


10. How do I use a greater concentration of Essential Spritzers?

Take a teaspoon or tablespoon of Essential Spritzers and put in your cleaning bucket of water. For heavy duty needs clean with soap and water first then top off with a cleanse with Essential Sritzers. For large constant use, you will probably want to buy the oils themselves. Drop 6 to 10 drops of the oil into the cleaning bucket of water and enjoy your cleaning.




| | |
| --- | --- |
| More to come! Email Essential Spritzers with any questions you may have to connect@essentialspritzers.com | |






We are always happy to provide singles and blends for your custom orders!
Don't see what you would love in your Essential Spritzer collection? Contact Us!

Spritz generously and frequently! You too may find Essential Spritzers are essential!







Essential Spritzers can be easily tested for sensitivities. Spritz on the forearm (with palm
up) and wait 20 minutes. No reaction, Enjoy! For any negative reaction, consult a physician.
Essential Spritzers are for EXTERNAL USE ONLY.
No claims are made for medicinal healing and the FDA has not evaluated oils or any
products for such values. Info presented here is for educational purposes only.